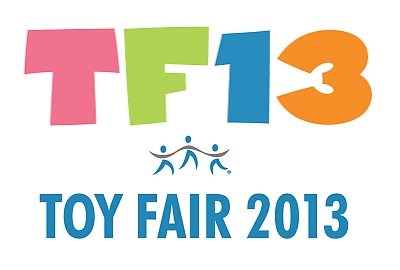 Travel Tech | Top Travel Products from the 2013 Toy Fair
TripKnowledgy's Toy Fair 2013 Travel Tech Roundup
Very few conventions get me quite as excited as the annual Toy Fair at the Jacob Javits Center in NYC. It's a chance to run around like a little kid, playing with the closest foam ball gun I can reach while getting the inside scoop of the newest Lego collection. But amidst the child-like spazzing you'll find me and my good pal Jamie (aka The Baby Guy NYC) doing, I'm always on the hunt for the newest, coolest, travel friendly products on the horizon. Sometimes they come in the form of games. Sometimes in the form of gadgets. But they all make me anxious for my next travel day. Here are the highlights of the best travel tech from this year's Toy Fair.
1. Outside of the Plants vs. Zombies action figures, nothing got me quite as excited as the head-turning Micro Luggage
. Micro is famous for their folding t-bar scooters, and apparently one of the execs must have missed one too many connecting flights and decided to do something about it. Because Micro teamed up with Samsonite to develop a hard case Samsonite suitcase attached to a folding scooter. Viola! They have created the funnest suitcase imaginable. It's the definition of travel tech. They had to pry it out of my hands when I finished the demo because I wanted to take it home with me right then and there! It's small enough to be your carry-on suitcase and comes equipped with a padded laptop compartment if you choose to make it your daily commute bag. The newest (more kid friendly version) also has built in speakers for your iPod!
2. Speaking of luggage, if you've got toddlers on the road with you, you MUST get your hands on the Trunki 
from Melissa & Doug.  This lightweight, sturdy, carry-on sized suitcase serves as luggage, riding toy, and transport for kids on the go! The kids can wheel themselves around or parents can pull them along using the included tow strap. Not to mention that everyone in the toy industry looks at Melissa & Doug as the industry standard. Security outside their booth was like trying to enter the U.N.. http://www.melissaanddoug.com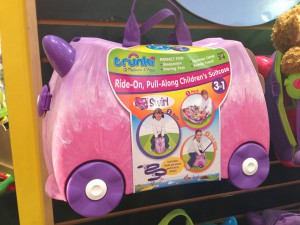 3. Also from Melissa & Doug is a great travel diversion for the little ones called Water Wow!
It's a coloring book that uses a "pen" filled with water that makes it look like the kids are coloring in the pictures. Really, there's just a chemical reaction happening to make the page turn colors when damp. Then, once the page dries, the colors disappear and they can start all over again. Best of all, no crayon or makers all over the car, luggage, clothes, etc! There are a ton of different subject matters to choose from like Animals
, Alphabet
, and Vehicles
.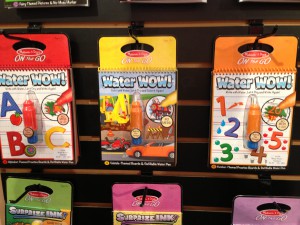 4. If your traveling artist is a little to old for Water Wow, check out the Eco-Friendly On The Go Artist Travel Kit
 from BeginAgain. The eco-friendly kit comes with two pencils and twelve crayons in a convenient cotton travel case and offers plenty of creative opportunities, while a ruler and stencils aid kids in drawing lines, circles, stars, and other complex shapes. If I had kids (that I knew of) I would definitely be getting this for them.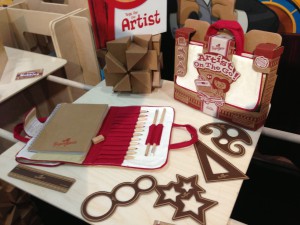 5. I love stopping by the Thumbs Up! booth every year because they always have great travel tech to show off and this year was no different. My fiance had JUST been complaining to me about how she hates that her headphones constantly get tangled. Well, Thumbs Up! has a great solution: Zip Headphones. They are pretty self explanatory, and yet, I can't imagine how they weren't invented years ago! I can't wait to get my hands on a pair to see if they actually work, of if it's more gimmick than anything. They are basically just headphones that have zippers along the wires, so when you are done with them, you zip the wires together and avoid the Christmas Light-like untagleing frustration next time you want to use them!
6. In addition to the Zip Headphones, they had a Portable Body Scale
, for those of us who insist on monitoring how much TGIFridays we've been eating on the road.
7. Finally, I was incredibly impressed with the Bandit Nap Pad from The Shrunks, the company that has brought major style and design points to the world of Kid's Inflatable Travel Beds
. Made of lightweight fleece, the Bandit pad has a built in foot pump to blow up the pad/pillow combo. The soft fleece blanket is also attached, so no need to bring a separate blanket! 100% honesty…if they made these for adults I would buy one for myself.
There was so much fantastic travel tech at Toy Fair this year, I've decided to write another article just to feature my favorite portable games (both board and card)! Look for it soon!
My name is Spencer Howard, and I'm an Concierge/Host/Drunk who has spent the majority of the past 9 years on the road, hopping from hotel to hotel for months at a time. Through trial and mostly error, I've become what the airport security line calls an "Expert Traveler." (It makes my Mother proud) But for those of us who go beyond occasional puddle jumper and enter the world of Hotel Homebody, it takes more than a complimentary mint and a flat screen TV to warm the cockles of our hearts. I hope you have insurance, because I'm gonna be throwing some knowledge bombs at your face. **Feel free to contact me with your questions about Travel Gadgets & Gear**
You May Also Like
June 28, 2012